news

Festival No.6 – Joy Division talk
Thursday, September 4, 2015 AT 1:00PM
This weekend as part of the fantastic Festival No.6 in Portmerion, North Wales there will be a Joy Division related event. On Friday 4th September at 6.15pm at the Estuary Stage curated by Faber Social, Deborah Curtis, Stephen Morris and Jon Savage will talk about the Lyrics of Ian Curtis. If you are at the festival please come down to the estuary and join us.
More information at Festival No.6
Joy Division vinyl album re-issues
Thursday, June 25, 2015 at 1:28PM

To celebrate the 35th anniversary of 'Love Will Tear Us Apart' this summer, we are pleased to announce the re-issue of four iconic Joy Division releases on heavyweight 180-gram vinyl: 'Unknown Pleasures' and 'Closer' will be available on June 29th, followed by 'Still' and an expanded version of 'Substance' – both available as double-LP sets - on July 24th. The expanded version of 'Substance' will also be available on CD. The new version features two additional songs which were not included on previous editions: 'As You Said' and the Pennine version of 'Love Will Tear Us Apart'.
Order at http://smarturl.it/joydivisionstore
Joy Division documentary on BBC4 Friday 27th February
Friday, February 27, 2015 at 6:41PM
The Grant Gee directed film documentary "Joy Division" receives it television premier tonight on BBC4 9pm Friday 27th February. The film examines the band's story through never-before-seen live performance footage, personal photos, period films and newly discovered audiotapes and features the unprecedented participation of all the surviving band members.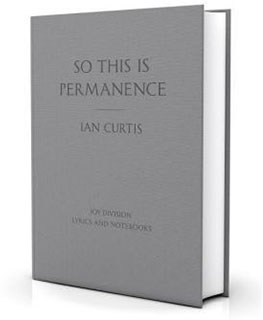 So This Is Permanence: Lyrics and Notebooks of Ian Curtis
Thursday, September 18, 2014 AT 4:03PM
Faber & Faber publish So This Is Permanence on October 16 2014, £27 hardback, £200 limited edition,
£14.99 ebook.
Edited by Jon Savage with a foreword by Deborah Curtis, So This Is Permanence presents the intensely personal writings of one of the most enigmatic and influential songwriters and performers of the late twentieth century, Joy Division's Ian Curtis.
Interspersed with the lyrics are previously unpublished facsimile pages of Ian's notebooks, which throw his highly emotive lyrics into fascinating relief and cast light on the creative process of this singularly poetic songwriter.
Order at www.faber.co.uk/9780571309559-so-this-is-permanence.html